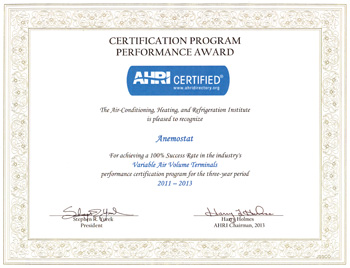 Model ESTS
Series Basic Assembly, ECM
Application
Series type fan assisted air terminals with reduced operating costs by up to 65% over conventional PSC motor driven fan terminals means fast payback period.
Maintain space temperature with constant air flow level to the space throughout the operating range for high levels of thermal comfort. Fan airflows can be remotely adjusted to meet seasonal needs.
Energy reclamation from warmer ceiling plenum during heating cycles.
Improved air quality with high levels of air motion for significant occupant comfort.
Control strategies using pneumatic, analog, or direct digital control (DDC) systems.
Complete air terminal remote control including fan flows when used with DDC systems.
Product Features
Electronically Commutated Motors (ECMs) using brushless DC motor technology for energy reductions up to 65% as compared to PSC motors. 120, 240 or 277 VAC, 1ø.
Easy to install and service – all controls located in one convenient location for single point electrical connection. Motor electronics can be replaced without removing the motor from the fan assembly.
Four models provide required horsepower ranges for optimizing energy savings
Ultra-Quiet, 18 & 20 gauge steel design for rigidity and demanding noise criteria specifications. Standard terminal includes an acoustical attenuator – not an "add on" accessory!!
1" dual density thermal / acoustic internal insulation (NFPA 90A & UL 181)
AHRI 880 certified performance / ETL listed
Factory Programmed - pressure independent fan flow means Fan CFM can be reliably preset – a significant reduction in field labor to balance and adjust the "system", without accessing the ceiling plenum.
ECMs and stored programs are unaffected by power irregularities such as short interruptions or under-voltage conditions.
Flow curves attached to each terminal for both the inlet sensor and motor.
Intelligent fan motor circuitry for remote fan flow control via DDC systems (BMS).
A-Pulse speed controllers with various features to meet specific project requirements may include visual LED flow indicators, inputs, outputs, and RPM feedback loops.
Backward fan rotation issues related to start-up sequencing is eliminated.
Swing-down fan access panel
Steel control enclosure, screw attached cover. Left hand position is standard.
90° inlet damper & perimeter seal limiting leakage to <1% of max rated flow at 3" w.g. inlet static pressure.
Patented Velocity Wing primary flow sensor measures flow to ±5% accuracy regardless of inlet conditions. Highest velocity pressure amplification means high turn down with high accuracy.
Accepts flanged discharge duct connection
Options
A-Pulse fan flow controller choice:
Manual flow adjustment with screwdriver ,On-Off control, and flow indicating lamp
0-10 vdc input from DDC controller, On-Off control, and flow indicating lamp
Manual digital control unit with two ten digit rotary switches
Manual selection of 4 factory pre-programmed flow rates, jumper or switch selected.
1" Throw-Away Induction Filter
Internal liners including: Foil laminated, fiber free insulation; dual wall construction; low temperature applications.
Model Q5 radiated sound elbow
Pneumatic, Analog, or Direct Digital control packages
Unit mounting brackets (field installed)
Hinged front control enclosure cover
Slip & drive cleat discharge collar
Electrical component options – line voltage disconnect switch, power fusing, electric damper actuator (24vac) for use with DDC controls, 24vac step down transformer
Digital, analog, or pneumatic control systems
---
Model ESTW
Series Hot Water Heat, ECM
Application
Series type, fan assisted air terminals with integral hot water heating coil
Provide hot water heating to perimeter spaces during occupied periods and night shut down modes. Night cycling temperature control with central fan systems shut down.
Product Features
Same as Model ESTS plus:
1 or 2 row hot water coils
1/2" O.D. copper tubes, .016" wall thickness, mechanically expanded in fins. Manifolds are minimum .028" wall thickness.
Aluminum corrugated fins with rippled edges, .0055" thick, 10 per inch.
Designed for maximum heat transfer and low water pressure drops using single and multi-circuited designs.
Performance data per AHRI Standard 410
Factory pressure tested for leaks at 300 psi, burst tested at 450 psi, ambient temperatures.
20 gauge galvanized sheet metal casing with 18 gauge end plates
"Slip & Drive" connection provided for metal discharge duct connection
Connections are male solder headers.
Options
Same as Model QSTS plus:
Right hand or left hand coil connection – factory configured
Coil clean-out access door
"Steam" construction available. Contact your local Anemostat representative.
---
Model ESTE
Series Electric Heat, ECM
Application
Series type, fan assisted air terminals with integral electric heating coil
Provide electric resistance heating to perimeter spaces during occupied periods and night shut down modes. Night cycling temperature control with central fan systems shut down.
Product Features
Same as Model ESTS plus:
Integral electric heating coil with nickel-chrome resistance wire
Primary, auto reset thermal cutout
Air flow switch for proof of air flow
24vac Class II transformer (unfused) as required for 24vac control systems
PE switches for pneumatic control systems
Magnetic de-energizing contactor per step
Accepts flanged discharge duct connection
Left hand control and heater cabinet position are standard
Options
Same as Model ESTS plus:
Door interlocking disconnect switch, non-fused
Power fusing (fuses & fuse blocks)
Manual reset secondary thermal cutout
SSR modulating controller